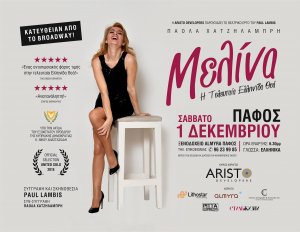 Well-known Cypriot actress, Paola Hadjilambri, returns in "Melina: The Last Greek Goddess" written and directed by Paul Lambis. The production falls under the auspices of His Excellency, The President of the Republic of Cyprus, Mr Nicos Anastasiades.
"Melina: The Last Greek Goddess", a one-woman play, brings to life the dynamic, epic persona of Melina Mercouri, whose worldwide acting achievements on stage and screen, and her zestful commitment to Greek politics and art, defined her as Greece's most celebrated national heroine.
Poignant, seductive, passionate and controversial, the play illustrates a remarkable life of a political activist who sought to represent the soul of Greek national identity. An outspoken lady of principle, Melina was a powerful advocate for the return of the Parthenon Marbles, from British museum to Hellenic Republic.
This exuberant production creates a gripping theatrical experience and features compelling music that exists as a trademark for Hellenic Republic.