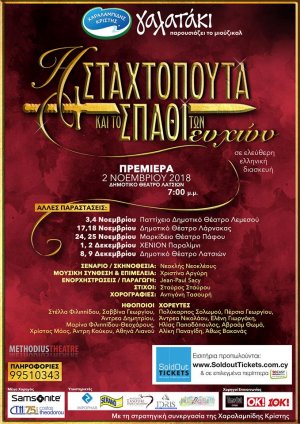 Methodius Theater raises the musical "Cinderella and the Sword of Wishes". The musical based on Cinderella's fairy tale, in a unique, modern Greek adaptation and direction by Neoclis Neocleous.
The talented actors perform live songs / compositions by Christina Argyri in Greek verses by Stavros Stavrou, while choreographies are creations by Antigoni Tassouri.
The roles are performed by: Stella Philippidou, Savina Georgiou, Andrea Demetriou, Marina Filippidou-Theocharous, Christos Maos, Andri Koukou, Athena Lianou.
Dancers: Polykarpos Solomou, Persia Georgiou, Andrea Nicolaou, Ilias Papadopoulos, Avraam Thoma, Aliki Panagidi, Athos Bakanas.