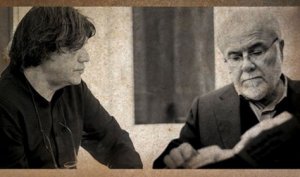 A unique performance of Music and Poetry presented by 2 friends and collaborators who have been working together since the '80s, exchanging thoughts, emotions, sounds and lyrics of their own compositions, as well as those of fellow musicians. Evoking images and scents of a mountain village and also the dry desert land of the Nile, the artists create a new motherland. Through an innovative orchestration and original compositions, Michalis Ganas' poetry is beautifully set to music, transporting the audience to new worlds and pictures.
Music performed by Nikos Xydakis and poetry recited by Michalis Ganas.
Musicians: Yiannis Kyrimkyridis (piano), Yiorgos Kontoyiannis (lyre), Dimitris Varelopoulos (lute).
Duration: 90'