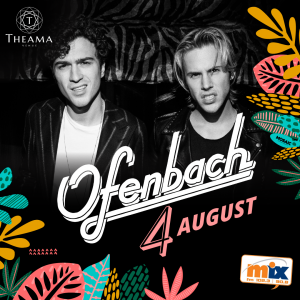 Ofenbach, a world-famous electronic duet from France, authors of "Be mine" and "Katchi" will play a concert on 4th of August at Theama venue!
At just 24 years old, this duo of Parisians are very much a part of the growing deep house trend, but electro is not all they do, with a sound that features rock and folk influences, too. This certainly comes through in "Be Mine", which topped the world charts with more than 300 million streams, while its fun, sexy video racked up 100 million views: now that's what you call a hit.
And in 2016 there was a real blast called "Be Mine". The composition has hit the Billboard Dance charter and has long been leading the 1st line of music charts around the world. The group sold more than 750 thousand copies of the single. It marked the track with diamond certification.
The next explosion did not have to wait for a long time. The guys made remixes on the composition of Nick Waterhouse "Katchi", which has more than140 million views on YouTube.
Last year, the duet played at the opening ceremony of the UEFA Europa League finals in Lyon and their performance was viewed by 60 million viewers around the world.
Offenbach – bright and modern representatives of modern DJ-culture. Their dance energy tracks are intertwined with elements of classic rock and Blues. The whole world dances to the tracks of this Duo. Our turn has come!
Don't miss! The most dance party this summer! See you on August 4th!
Tickets: www.soldoutticketbox.com/