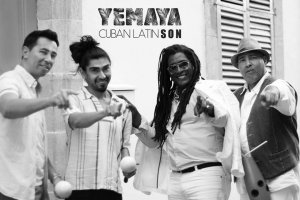 Travel along the original sounds of Cuba with Yemaya Son – Cuarteto !
Four Latin musicians on stage, vocalist Pedro-Son Caliente and Alejandro Gonzalez (percussion, vocals) from Cuba, Edward Alexander Rodriguez from Colombia (keys, vocals) and Rodrigo Caceres Bass from Chile (bass, vocals), interpret a blend of salsa, rumba and afro- cuban rythms creating a definitely uplifting atmosphere!
Do not miss a fantastic and powerful Latin night at Technopolis 20 garden in Paphos, on Monday 5th of August 2019, at 8:30pm.
Entrance: €12
Reservations necessary at 70002420 (calls only)
Sponsor: Deputy Ministry of Tourism