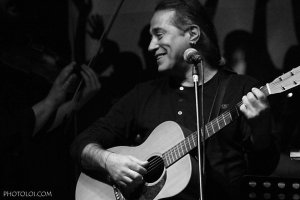 Pantelis Thalassinos presents an anthology of love songs inspired by Cypriot and Greek traditions, the rebetiko song, the Greek Nouvelle Vague and recent Athens music waves, as well as the Greek laïkó popular song and the composers of the later 20th century, combining the singer's own beloved songs and greatest hits.
Accompanied by Cypriot singer Christiana Pavlou, along they will present songs from their latest collaboration.
Musicians: Andreas Dryniatis – bouzouki, Varvara Louka – violin, Marios Markou – clarinet, Antonis Polykarpou – piano, Dimitris Papanicolaou – bass, Constantinos Paouros – drums, Admitos Pitsillidis – guitar / arrangements / direction.