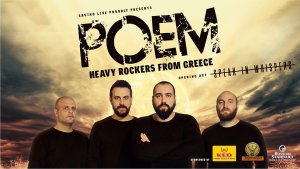 Savino Live proudly presents -Poem- Heavy rockers from Greece!
Poem is a four-piece progressive rock/metal group based in Athens. Formed in 2006 & consists of George Prokopiou (vocals/guitar), Laurence Bergström (lead guitar), Takis Foitos (bass) and Stavros Rigos (drums).
They have released 3 albums so far:
2018 – "Unique",
2016 – "Skein Syndrome"
2009 – "the great secret show"
All have received excellent reviews from fans, webzines and magazines from all over the world.
They have toured Europe 4 times:
In 2016 with Amorphis (FI), Omnium Gatherum (FI) and Textures (NL)
In 2016 a co-headline Balkan tour with Until Rain (GR)
In 2017 with Persefone (Andorra)
In 2018 a co-headline tour with Damnations Day (AU) & White Walls (RO)
They have shared the stage with Opeth, Ozzy Osbourne, Pain of Salvation, Paradise Lost, Burst, Mekong Delta, Cilice, Rotting Christ, Leprous, Katatonia, Gojira, The Gathering, among others and we have also participated in numerous festivals in Greece and other European countries.
The next album is expected to be released in Feb of 2020.
OPENING ACT – SPEAK IN WHISPERS
For more info call: 99860304 / 99426011