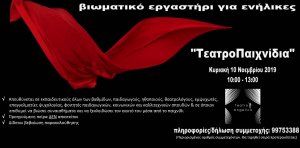 Teatro Angelico organizes an adult theater play workshop entitled "Theater Games." on Sunday, November 10, 2019, from 10:00 to 13:00. The workshop coordinator and animator is Angela Rizaki, a theatrical educator and actress.
The workshop is aimed at teachers of all levels, educators, actors, animators, psychologists, students of pedagogical, social and artistic studies and in general anyone who wishes to experience emotions and unlock themselves.
The workshop includes introductory & role play, concentration, relaxation and sensation exercises, group communication and empowerment exercises, physical/motor exercises, pantomime, improvisation, creative writing.
A three-hour journey is full of moments of laughter, liberation, expression, imagination and plenty of play.
We are waiting for you.
Information
To apply call: 99753388
(Limited number of participants. Priority to be followed)
Cost of participation: 25 euro / 20 euro (students / unemployed)
– A follow-up certificate will be provided at the end of the workshop
– No previous experience required