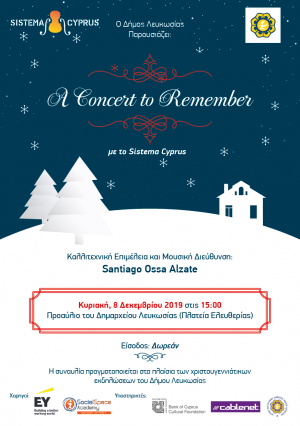 Sistema Cyprus returns to the stage, with its first concert this year, titled "A Concert to Remember", as part of the Nicosia Municipality's series of Christmas events.
With the aim of getting us into the holiday spirit, the orchestra and the choir, consisting of over 75 children, are preparing to offer us a concert we will never forget! See you all on the 8th of December 3pm, in the courtyard of the Nicosia Town Hall (Eleftheria Square).
The evening will be musically conducted by the new Sistema Cyprus Artistic Director and Conductor Santiago Ossa Alzate. The maestro comes from Colombia and it is worth noting that he grew up participating in the El Sistema program. The Choir will perform under the Direction Loukia Lazarou.
Admission to the concert will be free, and during the event, the public will once again have the opportunity to support Sistema Cyprus's work and effort for social change through music, by making a donation on the spot.