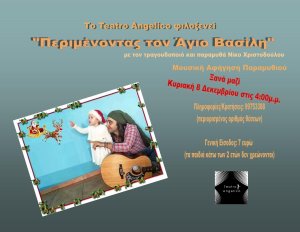 Due to popular demand, the singer and storyteller Nikos Christodoulou will be with us again on Sunday, December 8 at 4:00 pm (Limited Seats) For reservations: 99753388.
It is a children's musical tale full of Christmas spirit and nostalgia.
Summary: Santa Claus has been bringing joy and gifts to children for years now … But what happens when he begins to feel tired and exhausted …? He has to take a break and go on vacation … So he leaves his village and goes somewhere warm and quiet to rest. But suddenly something is happening … and Christmas is approaching … Will Santa Claus manage to return to his village and his job? Will anyone help him? Will he do it on his own?
Recommended for children up to 6 years old.
Narration / music composition / lyrics / song: Nikos Christodoulou
Info / Reservations: 99753388 (limited number of seats)
Start time: 4:00 pm
Duration: 50 '
General fee: 7 euros (Children under 2 years are not charged)