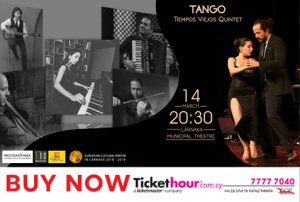 At a time when the lack of contact is becoming more and more intense, Tango clearly targets simplicity, emotion and meaningful communication. this is often also what the Tiempos Viejos Quintet represents. The 5-member band along with 2 skilled dancers promises an enjoyable experience in the rhythm of tango and also the Argentinian charm. The stage will become a dancefloor for impressive choreographies, sharp movements and passionate steps accompanied by Argentine melodies that once again reveal that dance is a special way of communication.
The distinctive dynamism of Tiempos Viejos Quintet's music and their contemporary sound promise to excite the audience by giving it a unique, special night.
Using as soundtrack the most famous composers such as Carlos Gardel, Francisco Canaro, Astor Piazzolla et al, the band invites enthusiasts of Latin American culture and dance to come along and celebrate the Argentinean dance of love, betrayal and seduction.
Tiempos Viejos Quintet:
Fotis Mousoulides: Accordion and orchestration
Nicos Pittas: Violin
Anna Kalogirou: Piano
Panicos Loizidis: Guitar
Nicos Ioannou: Double Bass
Dancers:
Shalom Volchok
Yiota Belegrati