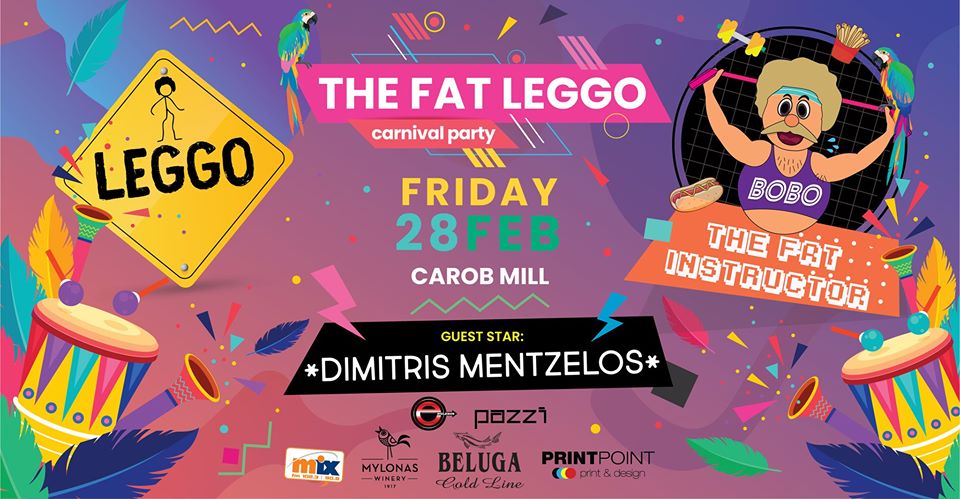 LEGGO and BOBO THE FAT INSTRUCTOR are ready for another unique experience, with a Carnival and ''mono sousimo'' flavour.
? Reservations are a must!
? A limited capacity party!
? A limited number of tickets for walk-ins!
BOBO THE FAT INSTRUCTOR meets the LEGGO PARROT!
Guest Star:
The one and only DIMITRIS MENTZELOS from Greece!
More Beats by:
LEGGO – DJ Englezos|
BOBO THE FAT INSTRUCTOR – Pazzi|
|Carnival | 80's and 90's hits| Reggaeton |Mainstream |Dancehall | Rnb |
Sponsored by Beluga.
Media Sponsor: MIX FM
Wings by Red Bull!
✪ Info and Reservations please call on 99825376 10.00 a.m – 15.00 p.m and 19.00 p.m – 22.00 p.m daily!
✪ Right of admission reserved.
✪ Entry only allowed to persons over the age of 21 and have proof of age on request. (I.D or Drivers Licence).
✪ Doors open 10:00 P.M
✪ Ticket Entrance: €15
✪ Available tickets ( Printpoint ) 80 Agias Fylaxeos, Shop C-D
✪ Customer notice regarding photography:
Please be aware that during events photos may be taken of the crowd. By entering this area you consent to featuring in our photos without compensation. If you do not wish to be in any photos that may feature on our Facebook page or website please inform a member of staff or message us directly through Facebook.