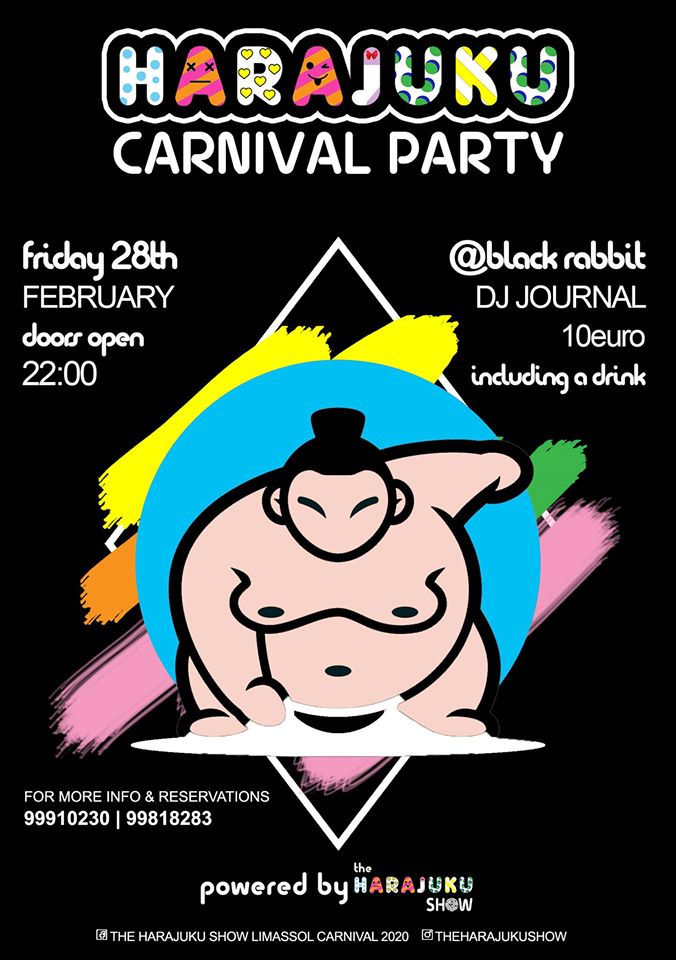 ✰THE ABSOLUTE CARNIVAL THEME PARTY is on its way!
Put your masks on, wear your costumes and be prepared to enjoy AN EXTRAVAGANT night! Be creative and try to look UNIQUE! We know HOW to party and especially during CARNIVAL! Let's go Limassol..✰
THE EVENT IS SUPPORTED BY THE THE HARAJUKU SHOW CARNIVAL GROUP,
▬▬▬ •★• MUSIC •★• ▬▬▬
★ Dj JOURNAL
▬▬▬ •★• INFO •★• ▬▬▬
➜Venue : Black Rabbit Limassol
➜Info-RSV ✆: 99910230 – 99818283
➜Entrance fee: €10 including a drink
➜Doors open : 22:00
➜Dress Code: STRICTLY CARNIVAL COSTUMES
CUSTOMER NOTICE:
PLEASE BE AWARE THAT DURING EVENTS PHOTOS MAY BE TAKEN OF THE CROWD. BY ENTERING THIS AREA YOU CONSENT TO FEATURING IN OUR PHOTOS WITHOUT COMPENSATION. IF YOU DO NOT WISH TO BE IN ANY PHOTOS THAT MAY FEATURE ON OUR FACEBOOK PAGE OR WEBSITE PLEASE INFORM A MEMBER OF STAFF.
ps. the event is half reserved..
so be quick..
make your reservations now