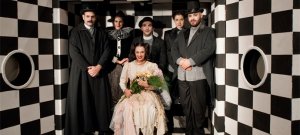 A play by Tilemachos Tsardakas and Dionysis Bastas, directed by Marina Vronti.
Based on the legend of Orpheus and Eurydice, The Girl Who Insists is a tender initiation to the beauty as well as the challenges of life, aimed at viewers of all ages.
Cast: Demetres Antoniou, Savvina Georgiou, Yiorgos Evagorou, Stelios Kallistratis, Polyxeni Savva, Myrsini Christodoulou.
Language: Greek