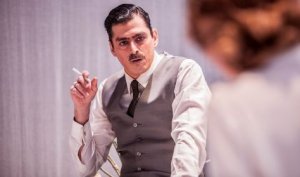 Based on The Happy One, the awarded novel by Marina Karagatsi, and directed by Dimitri Tarlow, the play transports us to the home of emblematic Greek writer M. Karagatsis. within a period of 3 sleepless nights and seen through the gaze of his little daughter, the play brings to life all that had haunted and hurt one of the most reputed families in Greece – or just a family. although the dark moments overshadow the bright ones, the reconciliation with the past seems to be the only way out.
Adaptation: Eri Kyrgia. Directed by: Dimitri Tarlow. Costume & Set design: Eleni Manolopoulou.
Music: Nalyssa Green.
Cast: Keti Manolidaki, Sissy Toumasi, Smaragda Smyrnaiou, Danai Saridaki, Christos Malakis.