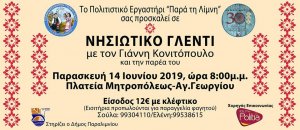 A Traditional feast will be set up in Paralimni this June and you are all invited!
The Cultural Workshop "Para ti Limni" is the organizer, with Giannis Konitopulos and his band singing traditional Greek island music.
Apart from the music, lot of dance and fun, you will have the opportunity to eat traditional kleftiko!
Friday 14 June, Mitropoleos square- Saint George, Paralimni, at 20:00.
Entrance €12 with kleftiko.
(Contact us to pre-order tickets for the ordering of food at 99304110, 99538615).
Note: Tickets will not be sold during the event.