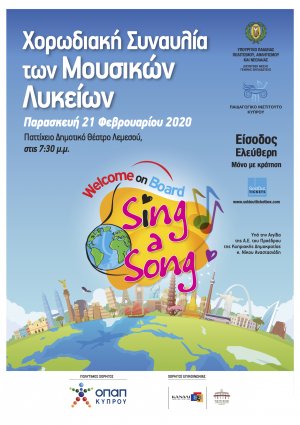 Join the choirs of Music Schools in this outstanding concert and travel with popular and beloved songs to countries all over the earth. Get on board for a meaningful musical journey with great moments of feel-good singing and movement.
The choirs will be accompanied by a 27-member orchestra, with orchestrations and harmonic arrangements by Christos Stavrinides. Conducting will be carried out by Miltos Georgiou, Francis Guy, Iakos Demetriou, Solon Kladas, Eleni Kyprianou and Loizos S. Loizou, along with Angelina Nicolaidou, who also has the artistic responsibility for the concert. Guest conductor is the world-renowned conductor of youth choirs Basilio Astulez.
The concert is co-organized by the Department of Secondary General Education and the Cyprus Pedagogical Institute of the Cyprus Ministry of Education, Culture, Sports and Youth.
The event is under the auspices of the President of the Republic, Mr Nicos Anastasiades.
Reservations: www.soldoutticketbox.com/