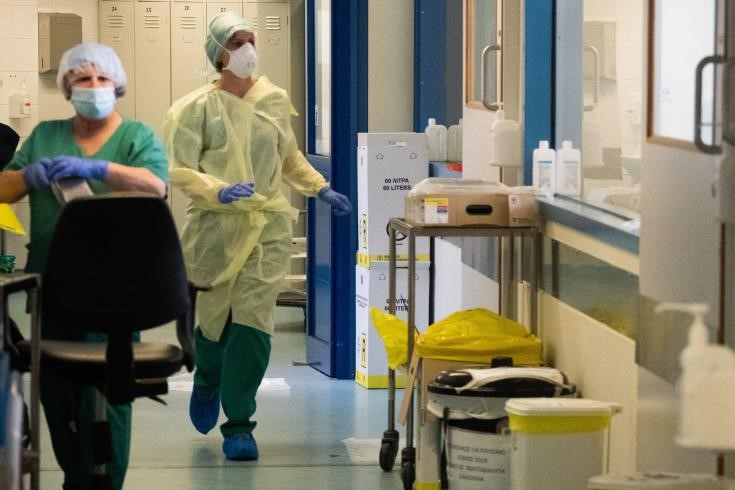 One of the main priorities is to ensure the highest possible protection of health professionals and all patients in hospitals, Chairman of the Board of Directors of State Health Services Organisation , Marios Panayides has stressed, speaking on Tuesday at a press conference about the actions taken to confront the coronavirus pandemic.
 
The Board of Directors of SHSO approved yesterday € 20 million that will be made available for the purchase of significant quantities of supplies and the purchase of equipment and services, Panayides stressed noting that this expenditure relates to all types of personal protective equipment that health professionals must wear in accordance with the protocols and the post they serve, both within the hospitals and at other designated places.
 
Panayides also said that a large number of diagnostic tests were being purchased to increase the ability to test a larger number of people, as well as equipment and services for the extra beds at the Intensive Care Units.
 
Μost of these supplies are expected to arrive in Cyprus by the end of this week by a plane specially chartered by the Μinistry of Ηealth, he added thanking for the significant donations to SHSO to cover the costs. "We thank them wholeheartedly for their kind offer. We will come back specifically on this issue in the future", he said.
 
We would be lying if we said that there are no problems and that we did no mistakes, he stressed adding that they make efforts on a daily basis for the best possible coordination and immediate resolution of problems arising from this unpredictable epidemic. At the same time, an action plan has been developed that is being implemented and is constantly being evaluated, Panayides stressed.
 
Referring to this action plan the new Chief Executive Director of SHSO Christis Loizides reassured all citizens that SHSO has created separate facilities in each hospital for the reception and care of coronavirus cases in order to protect the medical staff and to minimise the transmission of the virus via the A&E departments.
 
In particular, he said that they proceed with the establishment of screening clinics (short term treatment hospitals) beyond the Nicosia General Hospital, where one such clinic is already operating. These clinics will be operational before the end of this week.
 
He also noted that in addition to the Nicosia and Limassol General Hospitals, wards for suspected cases have also been set up in the Larnaca and Paphos hospitals.  If the result is positive and a person still needs to be hospitalized, then the patient will be transferred to Famagusta hospital, which is the reference hospital for COVID-19, Loizides explained.
 
He said that there is also in place an action plan for Intensive Care Units, drafted by doctors, providing the allocation of approximately 120 beds exclusively for patients infected with the corona virus.
 
According to Loizides another significant development is the ability to take samples via a drive-in at Famagusta and Nicosia hospitals.
Source: CNA