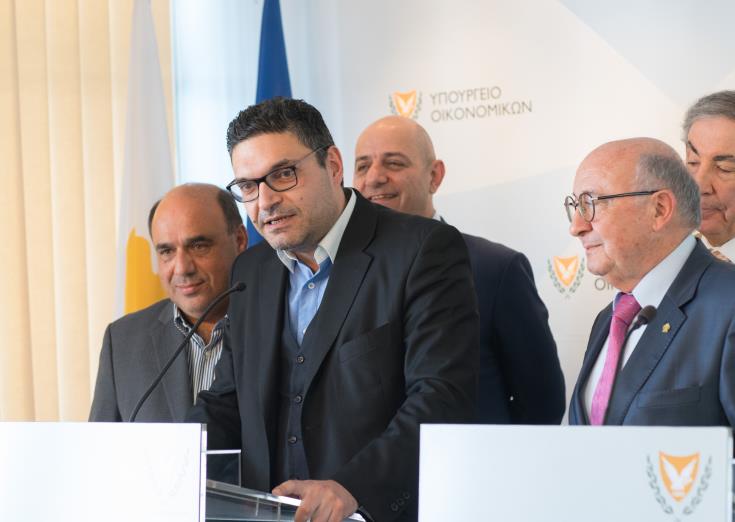 A financial support package for the economy in order to address the consequences from coronavirus disease, will be finalized in the next days by the Government, following the completion of contacts with various stakeholders and political parties, the Minister of Finance Konstantinos Petridis said. He also stressed that an extraordinary budget, will be approved next week by the Cabinet.

The support package, according to the Minister of Finance, will be targeted at businesses and entrepreneurship, as well as employees and subsidized employment and will concern taxes, grants and support measures for specific Ministries to promote their own policies that are not budgeted.

Petrides was speaking after a meeting at the Ministry of Finance with stakeholders of the tourism sector. Deputy Minister of Tourism Savvas Perdios, also participated in the meeting by telephone, as he is in self-isolation as a preventative measure against the coronavirus due to a return trip.

Earlier on, the Minister of Finance had extensive consultations with the Minister of Labor, Zeta Emilianidou and the social partners on the issue.

Petrides said that he expected in the next few days to complete the consultation with the political parties and to submit an overall financial support package to the Cabinet for approval, in order to ease the virus impact to the economy.
The Minister also said that one of the issues discussed with the Minister of Labor was the support of employees to avoid loss of income but also to remain employed.

He added that the Council of EU Finance Ministers and the Eurogroup would meet next week and that some key decisions are already being discussed and taken at EU level as regards the coronavirus and the fund aimed at supporting businesses.

"Regardless of any European measures, the Government will support the economy, employees and businesses with specific applicable measures which will be announced in the coming days," he said.

He added that the package will also include measures related to tourism.
Source: CNA