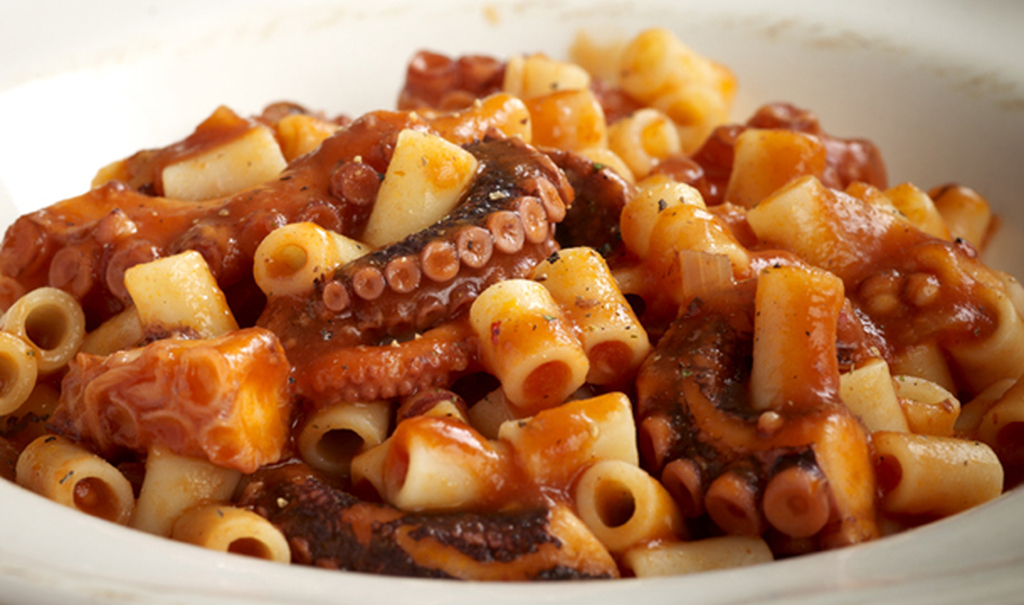 Octopus with pasta, made at home, can it get any better?
Boil till is done but still "crunchy", fry it for that extra crispiness and deglaze with some fresh Mediterranean spices and of course ouzo!
And oh my what a delight it will turn out to be!
Ingredients
1 kilo octopus, washed and cleaned
1 onion
1 carrot
6 tablespoons olive oil (2 tbsps + 4 tbsps)
1 tablespoon tomato paste
25 ml ouzo
400 g canned tomatoes
1 ½ liters vegetable stock or 1 vegetable bouillon cube diluted in 1 ½ liters water
2 bay leaves
grated zest of 1 lemon
juice from ½ lemon
500 g macaroni
salt
Preparation
Wash the octopus thoroughly.
Cut through above and below the eyes and discard this piece, take off and discard the mouth.
Turn the hood inside out and clean.
Cut the octopus in pieces, in any size you like.
Peel and coarsely chop the onion and the carrot into small cubes.
Place an over-sized pot over medium heat and add 2 tablespoons of olive oil.
Add the onion and the carrot.
Saute for 3-4 minutes.
Add the octopus to the pot and sauté for 3-4 minutes over high heat, till it turns golden.
Add the tomato paste and stir to sauté also.
Add the ouzo and wait for the alcohol to evaporate.
Add the canned tomatoes, vegetable stock, bay leaves, lemon zest and lemon juice.
Stir and lower heat to medium for 45 minutes.
Then, add the macaroni along with the salt and 4 tablespoons olive oil and cook for 15 minutes.
Stirring occasionally till the pasta boils and the juices are absorbed.
You can serve that delicious meal with capers, some grated feta cheese, fresh oregano, freshly ground pepper, grated zest of 1 lemon and drizzle with some more olive oil.