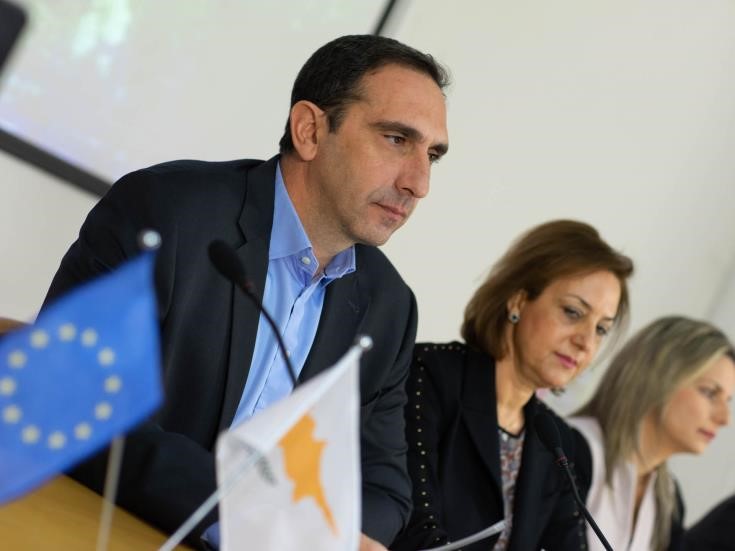 Cyprus bans flights from 28 countries for two weeks, starting this Saturday, Health Minister Constantinos Ioannou announced on Tuesday. The ban of flights to Larnaca and Paphos airports, which extends to flights from Greece and the United Kingdom, does not affect cargo.
According to Ioannou, there will be exceptions to the obligation to present a medical certificate for Cypriots who will enter the Republic of Cyprus until March 21.
Speaking after a ministerial meeting at the Presidential Palace, chaired by the President of the Republic, the Minister of Health said that starting from 3am (local time) on March 21, 2020, all flights to Larnaca and Paphos airports, except cargo, will be banned from the following countries: Bahrein, Belarus, Belgium, Bulgaria, Egypt, Estonia, Germany, Hungary, Ireland, Israel, Jordan, Latvia, Lebanon, Lithuania, Malta, Netherlands, Norway, Poland, Qatar, Romania, Russia, Serbia, Slovakia, Sweden, Switzerland, Ukraine, United Kingdom and Greece.
Concerning the March 15 decree, that requires a medical certificate for people who want to enter the Republic of Cyprus, the Minister said that the measure will stay in force until 3am on March 21. Exceptions apply for those who traveled abroad for medical reasons or for a short stay, for business or professional purposes, and for those who are entitled to enter on the basis of the Vienna Convention.
People who traveled abroad for medical reasons may be accompanied by the people who went with them abroad and stayed with them during treatment, the Minister clarified.
He added that instead of presenting a medical certificate, people who fall within the categories announced today, will have to provide a certificate from one of the diplomatic missions of the Republic of Cyprus abroad. To get the certificate, they will have to present relevant evidence, such as outbound tickets or certificates from the medical treatment center.
Ioannou also said that flights without passengers to the Republic of Cyprus will be allowed in order to transport people who wish to depart from Cyprus.
Moreover, he said that the Republic of Cyprus will charter flights from Athens and London if necessary, in order to transport passengers back to Cyprus falling within the exceptions announced.
All passengers entering the Republic of Cyprus will be placed in quarantine for 14 days from the day of their arrival, in areas designated by the state. This does not apply for persons who went abroad for medical reasons, who will instead confine themselves at home to continue their treatment.
Source: CNA