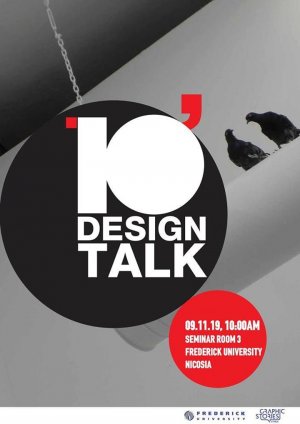 The initial concept of the «1st Design Forum, 10' for Design» derives from the basic principles of contemporary design itself, principles, which are well targeted, original, direct and contextual.
What is it?
The «Design Forum Cyprus, 10' for Design» is an open interactive one-day event which will take the form of an open development forum for the projection, documentation and archiving of contemporary visual communication in Cyprus. This is an initiative by the non-profit organization Graphic Stories Cyprus, which has been supporting and promoting Graphic Design and Visual Communication in Cyprus through a series of events and actions since 2015, and it is organized with the cooperation of the Department of Arts and Communication of Frederick University. This first edition will host some of the most important visual artists and designers of Cyprus, as well as young and emerging designers and students. The general aim of this forum is to bring together – under one roof – a variety of professionals, academics and students from Cyprus creative and academic institutions, in an effort to present and promote the Cypriot visual communication activity and culture through their pathway and work. The forum will also encourage the creative interaction of presenters and all audiences based on the exchange of ideas and thoughts through an open dialogue.
Where and When?
The «1st Design Forum Cyprus, 10' for Design» which is organized by Aggeliki Athanassiadi, Costas Mantzalos and Miltos Karras, will be held on the 9th of November 2019 at Frederick University from 10:00 till 15:00 and will welcome 24 professionals, academics and students who will give a 10-minute presentation about their art and design work and activity. During the course of the day there will be an opportunity for the audience to get to know the activity and work of Cyprus' important creatives.
The entry to the 1st design Forum Cyprus 10' for Design is free
RSVP: www.eventbrite.com/e/10-design-talk-tickets-75746015371