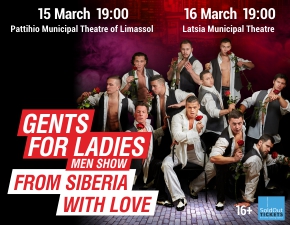 The hottest masculine company "Gents for Ladies" presents the show "From Siberia with Love". Language: Russian
This is our best spring gift for you dearest Ladies!
We are bringing to you the show in which the genres of dance, music, high performance and humor are intertwined.
"Gents for Ladies" could be a real theater established by men whose vocation is to make beauty in dance, particularly for women. each performance combines high-quality choreography, artistry, powerful energy and sexuality. this is a show of unlimited fantasy. It fascinates and seduces.
Our show has conquered the hearts and minds of its fans all over the planet. The show will stay in your minds for years to come back thanks to its unforgettable acts, the aesthetic of perfectly built male bodies and original costumes.
Your assumptions regarding our show may vary, however remember that it's better to see once than hear a hundred times.
"Gents for Ladies" is a show that will impact you profoundly.
For Ladies over 18 only!