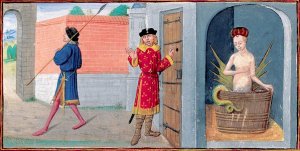 Melusine's Island: A Stranger's Itinerant Observations in Cyprus
Painting Exhibition by Canadian-Pakistani artist Sylvat Aziz.
An artist's personal and visual response in the-here-and-now to Cyprus as portrayed in CVAR's collections.
Sylvat Aziz teaches in the Visual Arts Programme at Queen's University, Kingston, Ontario, Canada, and is cross-listed with the Gender Studies and the Cultural Studies Programmes. She is a painter and a printmaker and trained at Pratt Institute, NYC and Montreal, Quebec. Her research interests are based around material and political visual cultures in cross-sectional societies. She has participated nationally and internationally with her work, including the Venice and Istanbul biennales. She has also held several domestic and international residencies in North America, UK, Europe and South Asia.
– The exhibition will open on 16 September at 19:30
– Free admission
– For more information: +357 22 300 994 / [email protected]
Opening Hours:
09:30 – 17:00