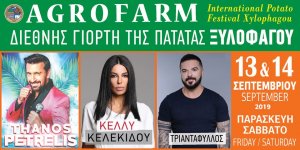 Xylophagou Community Council is organizing the two-day Xylophagou International Potato Festival.
The festival will take place at the site of the old Xylophagou Potato Packing Factory, at the entrance of the village, on Friday and Saturday 13 and 14 September 2019, hosting local and international musicians.
It will include a large agri-livestock exhibition from local and foreign exhibitors.
At the event you can try some traditional Potato dishes for free.
Entertainment:
13/09 Tryantafillos
14/9 Thanos Petrellis and Kelley Keleklidou
Entrance: FREE
Date: September 13 & 14, 2019
Start Time: 19:30
Location: Old Potato Packing Factory, At the west entrance of our village.